Project Info:
WE ARE NOW OFFERING INSTALLATION ONTO YOUR FACTORY BOLT HANDLE
Contact me on this forum via Private Message to order or to ask questions or you can email me at bootsmcguire@hotmail.com.
Read below for details and pricing.
These are a handle to allow you to modify your small knob handle into a large knob tactical handle. These work great for the Savage 10/110 Series (11,111,12,112,14,114,16,116, and PTA models) handles. I have had customers successfully install these on the Axis/Edge Series handles. These can also be threaded 1/4-20 at no additional cost. We will also install one of these handles onto your factory Savage Bolt handle. (See pricing below)
Pictured below on right in the 1st and 2nd pics is the standard handle. All others are custom handles pictured for custom ideas.
What you are purchasing is the furthest right handle pictured in the first two pictures. Your specific handle may be slightly different depending on what custom options you choose, if any. All other handles and pictures are displayed to show custom options they have opted for (additional charge may apply) and the finish they chose to apply. All finishes are/were done by the customer, handles are shipped in the raw finish with a light polish to them. See top two pictures for examples of the finish as shipped.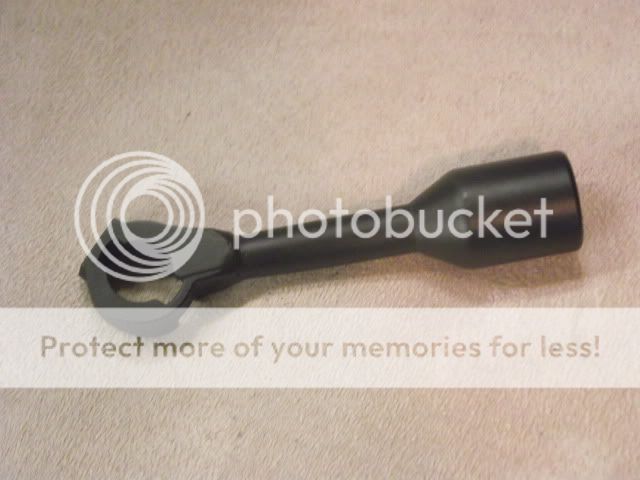 Pricing and Order Options
Handle units for your own installation are priced at $25 for Stainless Steel. Shipping is included to the lower 48 states. All Handles are Sold in the White. Please PM bootsmcguire with order details. You can also email me at bootsmcguire@hotmail.com. Custom Options above and beyond what is listed here are possible, Special pricing may apply. Message me here with questions, special order ideas, or to place an order.
We are now offering installation onto your factory Savage Handle for an additional $20. Just ship me your handle and I will return ship it to you completed and ready to paint or finish to your liking, or use as is with a nice Stainless finish.
 The firearm examples pictured above were installed by the consumer. We thank those consumers for submitting pictures to be used as examples of what they have chosen to do with these custom made handles.
Beginning 10/01/2011 all handles will be made to order, with the exception of when I have extras. I ship via USPS Flat Rate with Insurance and Tracking.
Here is a link to a thread by one of our customers showing how he installed his handle.
http://www.projectsavage.com/?q=content/boots-bolt-handle
Handle Instructions    (basic instructions for installation on Savage Handles for models listed above.)
Custom Handle Installation Instructions READ ALL INSTRUCTIONS AND WARNINGS BEFORE INSTALLATION! 
Upon receiving your new handle there are a few things you will want to gather and decide to make your installation easier. First be sure that you have access to the all of the tools and materials listed below. Second, it may be necessary to to final finish your handle prior to installation. If you are going to blue your handle (either with cold blue available at many retail stores or with professional bluing done by your gunsmith) it may be wise to do this prior to installation as it is uncertain what affect the blue chemicals will have on the loc-tite.
 
Tool & Supply List
1. center drill bit No. 4 1/2 or smaller
2. .250 drill (use #7 size drill if your handle is ordered with threads)
3. Drill press with vice (you may use a bench vice and a hand drill, but not recommended)
4. Abrasive Cutting Tool (die grinder, air cut-off tool, etc.)
5. De-burr tool or small files
6. Red Loc-Tite
7. Cleaning Solvent (brake cleaner, contact cleaner, etc.)
8. Factory Handle to use as donor
9. 1/4-20 tap and tap wrench (to use to tap out donor handle if you ordered yours threaded)
Installation Instructions: Read Prior to Installation
1. Secure Factory Donor Handle in bench vice.
2. Using your chosen Abrasive Cutting Tool, cut the handle off of the head 90 degrees to the handle shaft approximatly 3/8 inch from the bolt body bore in the donor handle.
3. Using a Metal File, give all the newly cut edges a light bevel to remove any sharp corners. You may also file the square corners off as well. DO NOT remove any more material than is necessary to dull the edges.
4. Now secure the head (the end that attaches to the bolt body) in the vice of your drill press at 90 degrees to the drill bit. Using your Center Drill positioned in the center of the cut off area of the head, drill a small starting hole mark no more than 1/16 inch deep.
5. Now using your .250 inch drill bit (#7 drill if your handle is threaded),  drill down no less than 5/16 inch (or you can drill all the way through if you prefer). Remove all burrs from around the hole, at both ends if you choose to drill all the way through.
5B. If your handle is threaded, you must now tap the hole. Be sure to lube your tap and start the tap straight to achieve proper threads. Be careful to not break off the tap as it may result in having to start all over with another donor handle. (If your new Handle Knob is NOT threaded then skip to step #6). Once you have tapped the threads, continue by skipping step 6 and going onto step 7.
6. Now check to see if the new handle fits in the hole. There should be some resistance as the handle is .0005" +/-  larger than .250" to account for slightly oversized holes. if your hole drills slightly smaller than .250" by .001-.002" then you may take a file and lightly polish on the new handle shank to get it to fit, remember to check it often as to not take off too much. Loc-tite allows up to a .002" clearance.
7. Once handle has been fit and depth of hole and diameters have been verified as correct, you will then want to clean both parts with solvent to remove and oils, cutting fluids, filings, etc.
8. After following your cleaners manufacturer's instructions, and the cleaner has dried or dissapated, it is now time to install your handle into the head with the Red Loc-Tite. Apply only to the bore and or .250" shank area of the handle and head piece, following the manufacturer's instructions on the Loc-Tite. Wipe away any Loc-Tite that is pushed from the joint with a clean paper towel.
9. Allow to dry per manufacturer's instructions.
10. Now your handle is ready to be finished, or used as is. 
-Be sure that your handle fits your stock's bolt handle opening. As stock dimensions vary from maker to maker some minor stock fitting may be required.